78 RPM Sephardic Recordings
1906-1913: The First Recordings
Commercial Sephardic recording began in 1906 or 1907 in Constantinople, when Salomon Effendi (Salomon Algazi) recorded Noche Buena ♪ for the Odeon Record company. (1) In a burst of activity from 1906 to 1913, four companies recorded nearly 215 Sephardic songs, laying down most of the early masters known to us.
Odeon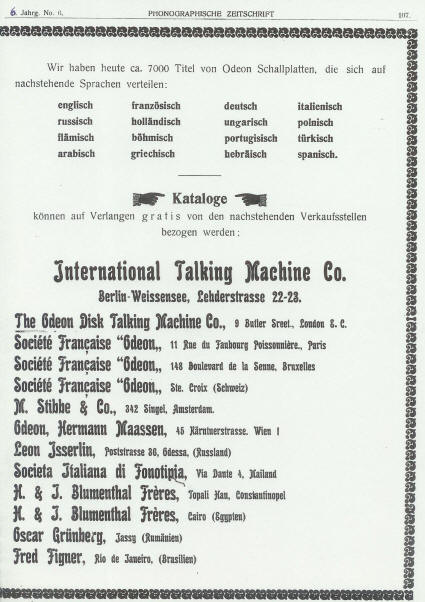 The International Talking Machine Company (Odeon) was the first company to institute a system of independent agents who worked with local artists to record local music. (2) By 1905 Odeon had amassed a catalog of hundreds of Arabic, Greek and Turkish songs. (3) In comparison, over the next six years Odeon released roughly two dozen double-sided Sephardic recordings, overwhelmingly in Judeo-Spanish rather than Hebrew. Their recording artists included Jacob Algava, Albert Beressi, and the club singer Haim Effendi. This limited slate of releases indicates the relatively small commercial opportunity presented by Sephardic music.
Gramophone
Odeon's arch-rival, the Gramophone Company had been the first to record in the Ottoman Empire, in 1900. In May of that year, the Gramophone engineer William Sinkler Darby visited Belgrade and Bucharest, then recorded Greek and Turkish songs in Constantinople on single-sided, 7-inch records. (4)
Around 1907, Gramophone opened a regional office in Alexandria. This office handled the company's affairs for the Near East, and issued the Greek and Turkish catalogues, including many of the so-called "Oriental Jewish" recordings discussed here. (5) Gramophone too built up quite a catalog of Turkish, Greek and other material before turning its attention to Sephardic recordings.
In 1907 Gramophone engineers went to Sarajevo and Constantinople, recording masters that quickly found their way onto almost 30 releases. It's surely no coincidence that Gramophone added their first Sephardic titles shortly after Odeon did. The same artists often recorded for several companies; for instance, Jacob Algava recorded for both Odeon and Gramophone. It was also impossible to disguise the very bulky equipment and supplies that recording engineers carried in those days. So Gramophone representatives would certainly have known of Odeon's Sephardic activities in advance of the release date.
After a two-year break, visits by Gramophone engineers to Salonica in March 1909 and Smyrna the following month yielded a new crop of recordings, including the first by the famed cantor Isaac Algazi. Off the beaten track, the expatriate Italian singer and Hazan Alberto della Pergola recorded four Hebrew sides for Gramophone in Bucharest, Romania ca. August, 1913.
Some of these Gramophone Company titles appeared on the Gramophone label, while others were released by the Zonophone "budget" label. With recordings originating in Bucharest, Constantinople, Salonica, Sarajevo and Smyrna (Izmir) (6), the Gramophone Company had by far the largest roster of Sephardic artists and recording locales.
Orfeon
The first Turkish record company was founded in late 1910 or early by the brothers Julius (pictured here) and Hermann Blumenthal. Born in the Levant to Russian parents, the Blumenthals had previously served as local agents for Odeon (7) (See also the advertisement, above, both courtesy of Hugo Strötbaum.)
Shortly afterward, the brothers opened Turkey's first record factory, in Feriköy. They wasted no time addressing the Sephardic market in the Ottoman Empire, releasing 45 songs by the prolific Haim Effendi from 1911 to 1913 on their Orfeon and Orfeos labels. In addition to Sephardic releases, the mainstay of the company was Turkish music. The firm contracted "with many of the outstanding artists of the period, foremost among whom was Tanburî Cemil Bey, as well as Hafız Âşir, Hafız Osman, Arap Mehmet, Hanende İbrahim and Tamburacı Osman Pehlivan." In 1925, the firm sold its factory to Columbia, and re-releases were subsequently issued on that label. (8)
Haim's recordings had an incalculable impact on Sephardim, extending to versions of the songs collected by far-flung folkorists such as Alberto Hemsi, Moshe Attias, Léon Algazi and Isaac Levy. "Many of these items became standard pieces of the contemporary repertoire..." (9)
Favorite
Favorite, a German record company rounded out the field of early entrants, with 14 songs recorded in 1912 and 1913 in Izmir, including ten by Isaac Algazi. Though small, Favorite was an important competitor in the Levant. Paul Blumberg, a Gramophone Company representative based in Izmir, wrote the Alexandria office in 1911, "The Favorite when quite a small company was able to make records in February, and now for the second time, whereas we, the great Gramophone Company, after some two years, are meeting with all kinds of difficulties and unpleasantness on account of a few records." (Emphasis in the original.) (10)
The company also recorded operettas, as well as Greek and Armenian records, and is especially noteworthy for its recordings of artists from Izmir and Salonica. (8)
The initial repertory from these four companies was overwhelmingly in Judeo-Spanish. Over time, Judeo-Spanish continued to predominate, but substantially more Hebrew selections entered the market.
Sales figures
The scarcity of surviving recordings suggests the question of how widely they were marketed. Aside from copies in record company archives, I know of only a handful of records remaining from the entire output of the Gramophone and Favorite companies from this early period. Each disk likely sold at most a few thousand copies or less. (11) I consider it most likely that only Sephardim purchased these recordings. (12)
1914-1923: Haim Effendi on Orfeon
For the next ten years the only recordings were made by Haim Effendi for the Orfeon label. (See [13] for the only exception.) While his first batch of recordings favored Judeo-Spanish over Hebrew two to one, this next round of recordings almost exactly reversed that ratio.
Of course, World War I cast a pall over the industry worldwide. But following the war, the 1920s were boom times for music sales and recording activity, including other vernacular music. But not for Sephardic music.We are left to speculate whether sales were too modest, or if public tastes remained constant enough that no new recordings were commercially required. Also, the wave of consolidation that swept the European record industry meant that the surviving firms had their pick of the recordings in the vault. In any event, there was very little Sephardic recording activity at a time when fresh Greek, Turkish and Balkan recordings were certainly commissioned. (14)
Haim would make only a handful of additional Sephardic recordings in his career. As our story continues, it moves from the Ottoman lands to New York City.
1924-1929:
New Labels and Re-Releases
New York
The Palomba Record and Talking Machine Co. issued one recording around 1923, with arrangements by Morris Cazes & Louis Matalon and vocal solo by Isaac Angel. Within a year, Angel had his own boutique label, the Angel Record Company and issued at least one more recording, a version of La vida do por el raki.♪
A few more New York releases came to market. For example, both Menachem Tsarfati and Morris Cazes (see above and the Stamboul Quartette, below) recorded at about the same time time. I have not been able to unearth any details.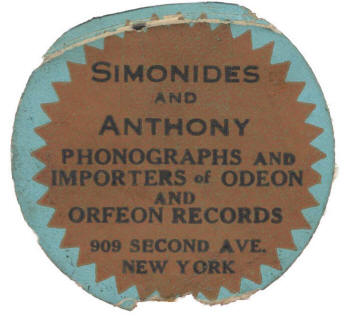 Sephardic recordings were offered for sale at many New York City venues: the Balkan Phonograph Store, the International Phonograph Co., Simonides and Anthony and others. See here for details and the advertisements.
In 1925 Columbia Records issued the first and only Sephardic 78-rpm recordings by a major US label: two 12" releases by the Stamboul Quartette, whose personnel included the previously mentioned Isaac Angel and Morris Cazes. All four songs were in Hebrew. These US recordings do not differ appreciably from their European counterparts in performance style. Though no one can match Isaac Algazi's interpretive prowess, contrast this version ♪ of Avinu Malkeinu by the Stamboul Quartette with this one ♪ by Algazi.
European labels
In late 1926 or 1927, Polydor recorded Elias Béhar on a two-sided Judeo-Spanish 78, accompanied by violin, 'oud and piano (Sample. ♪) This is the first known use of a piano in a Sephardic recording.) About the same time, the Edison Bell Penkala company was recording Carselero i Piadoso by Stella in Zagreb.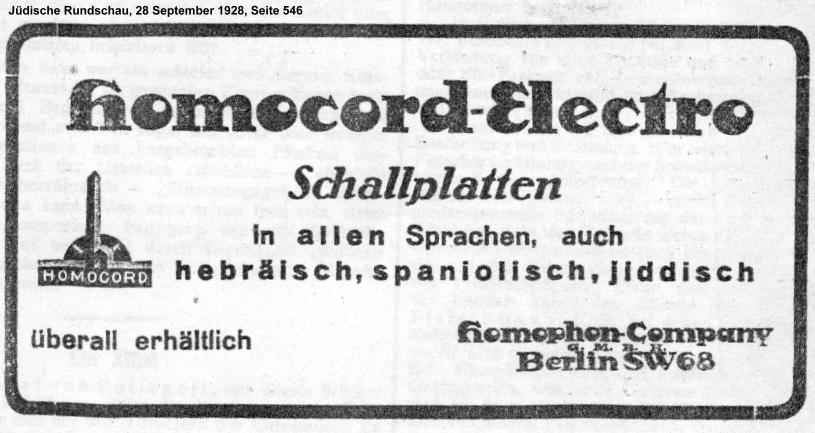 A tantalizing 1928 advertisement for Homocord touts the company's Hebrew, Yiddish and Judeo-Spanish recordings (Courtesy of Dr. Rainer E. Lotz.)
Della Pergola, Albert Pincas and possibly other artists recorded Hebrew Sephardic songs for Homocord. Aside from the Pincas titles, I am still seeking out further details.
In 1929 Isaac Algazi made five disks of Judeo-Spanish songs for the French company Pathé, in addition to other Turkish works. He also completed seven discs for Odeon.
From here forward, virtually all Sephardic songs marketed in Europe resulted from re-releases.
Re-releases
The German branch of the Gramophone Company, Deutsche Grammophon, was confiscated as enemy British property on April 24, 1917 and sold to Polyphon. At war's end, unable to use the Gramophone or HMV trademarks, Polyphon issued Gramophone recordings on the Polyphon and Polydor labels (15) Among these were eight Gramophone Company recordings released on Polyphon sometime between the end of World War I and fall, 1922.
Through 1931 the European recording industry underwent a dizzying series of bankruptcies, consolidations and overseas ventures. I will try to distill a very complex situation by discussing only those business changes that facilitated the re-release of Sephardic recordings.
In 1913, Favorite was folded into the Carl Lindström A.G. family of labels. In 1920 the General Phonograph Corporation acquired the Carl Lindström catalogs, including Odeon and Favorite. From 1921 onward, General Phonograph Corporation drew on European masters to produce recordings on its newly formed American Odeon label. (16) American Odeon produced a series of 16 Sephardic Odeon re-releases, from recording sessions originally dating from 1907 and 1908, all issued by the summer of 1926. (See the catalog here.)
In 1926, Odeon and other Lindström labels were sold to the Columbia Graphophone Co. in England and became part of the Columbia business in Europe. (17) After 1930, European Odeon matrices appeared for several years on Columbia. For example, at least one Favorite Sephardic recording was re-issued on the Columbia label.
In a huge 1931 merger, the Columbia Graphophone Company (which by then owned Odeon, Favorite and many other labels) joined with the Gramophone company to form Electric and Music Industries Ltd. (EMI). Orfeon masters were reissued on Columbia sometime by the late 1930s.
1930s: Art-Song Renditions
By the 1930s the global economic contraction and the impact of radio and talking pictures hurt phonograph and record sales dramatically (18) There were only a handful of new European recordings dating from the 1930s, In Europe, Léon Algazi arranged Sephardic songs in Hebrew (sung by Léon Gerberg ♪) and in Ladino (sung by Janine Tenoudji ♪) Albert Pincas recorded for the Ultraphon label, though we have no release details. (19) And the Jewish settlement in Palestine, in the person of Bracha Zefira, contributed its first Sephardic recordings.
Bracha Zefira
Born of Yemenite parents and orphaned early in life, at the age of six Zefira was taken in by a Sephardi widow. She heard her first Judeo-Spanish romances from the women of the Yemin Moshe neighborhood. She later learned traditional Sephardic songs from both Alberto Hemsi and Yitzhak Navon. Zefira concertized extensively in the early 1930s and several Israeli composers later arranged her song choices. (20)
Zefira's extensive public performances introduced the wider Israeli public to Sephardic songs for the first time, and it was squarely in an art-song, "a la Franka" (Western) style (21) Her recordings were mastered from 1937 onward. A handful of her Hebrew Sephardic works were issued on 78, such as Ein Adir ♪. Various Ladino songs she performed were also set to Hebrew words, such as Yendome (transformed into Yesh Li Gan ♪) and Mama yo no tengo vista, which became Hitrag'ut. These songs and others helped form the core of the modern Israeli Sephardi canon. (22)
It's worth noting that both these trailblazers, Bracha Zefira and Léon Algazi, were intimately familiar with the tradition they were adapting.
1941-1954: The End of the 78 Era
As Europe erupted in war, virtually all Sephardic recordings of the 1940s were made in North America. And since major US labels withdrew from the ethnic music field, it was smaller independent labels that moved in to fill the breach. (23)
In New York, dozens of Greek-owned nightclubs on 8th Avenue from 23rd to 42nd street served as a haven for Greek and Armenian immigrants – as well as Sephardim originally from the region. On stage, Albanian, Armenian, Greek, Sephardic and other vocalists and session musicians all contributed to the flavorful melange. Several record companies sprang up devoted to these musicians and their audiences. According to one account, Me-Re was established in the early 1940s by Aydin Asllan (a poly-lingual Albanian) and the violinist, Nick Doneff. They soon parted company, with Aydin founding Balkan and Doneff founding Kaliphon Records. (24) Whatever the (cross-) ownership among the Balkan, Me-Re, Metropolitan and Kaliphon labels, artists moved fluidly from label to label: 'Oud player Marko Melkon recorded for all four labels, while Victoria Hazan (see below) recorded for Metropolitan and Kaliphon.
Jack Mayesh and Victoria Hazan
Jack Mayesh and Victoria Hazan were the last in a line of Sephardic artists who grew up with, performed and recorded in the idiom of urban Ottoman music. As was characteristic of many of their predecessors, they operated comfortably in multiple languages, and actively set songs from other traditions to Judeo-Spanish lyrics.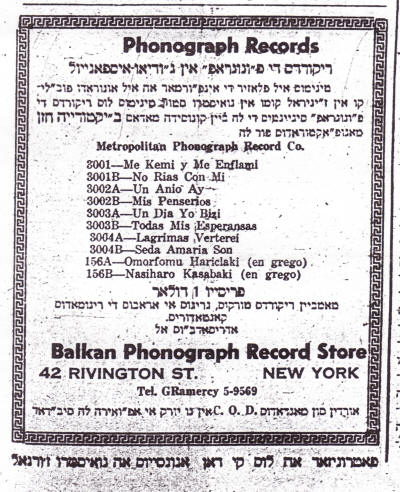 Fluent in several languages, Victoria Hazan recorded in Turkish, Greek and Judeo-Spanish. Metropolitan released five of her Judeo-Spanish recordings in early 1942, accompanied by violin, 'oud and kanun. (See illustration at right.) Here is El Cante por la Victoria ♪, surely the only Ladino song to reference both Uncle Sam and Hitler! (Lyrics here.)
Jack Mayesh made nine recordings for his own Mayesh Phonograph Records label from late 1941 to late 1943, accompanied by Gabriel Yohai on kanun. (These recordings were mastered at the Electro-Vox studio in Los Angeles and were occasionally released with Electro-Vox labels.) Roughly half the songs were in Hebrew, and half in Judeo-Spanish. During a New York excursion in summer, 1948, Mayesh made three more recordings for Me-Re (which bear Balkan matrices), all in Judeo-Spanish. These latter recordings had more elaborate accompaniment, an "Oriental Orchestra" led by Theodore Kappas on kanun, with violin and 'oud. According to his son, these were the best and most popular of his secular recordings. (26)
For their secular works, both Mayesh and Hazan drew on well-known Greek and Turkish folk and urban songs, which they then set to Judeo-Spanish lyrics. For example, Mayesh did his own version of Missirlu ♪ and transformed a song first known in Turkish as Benim güzel bülbülüm then in Greek as Kanarini into Ven canario. ♪ (25)
The Spanish and Portuguese catalog was bolstered by releases from London's Bevis Marks choir and Congregation Shearith Israel in Manhattan. The latter released a double-78 of five Hebrew songs from the music of the congregation with Dr. David de Sola Pool and the synagogue choir. 1951 saw the release of the first recordings of Sephardic field recording. Six Judeo-Spanish songs recorded in Paris by a couple from Salonica were included as part of a larger U.N.E.S.C.O. album. (Here is Ana Angel singing Partos Trocados.♪)
Two Makolit Israeli 78s of Sephardic songs as set by the cantor Nissan Cohen Melamed and performed by Benjamin Misrakhi close out the Sephardic 78 era.
Summing Up the 78 Era
At the turn of the past century there was an exuberant expansion of the repertoire coupled with relatively little experimentation in performance practice. We need further research to determine if performances in Salonica, Sarajevo and elsewhere differed significantly from practices in Constantinople, the city where most Sephardi commercial master recordings originated.
Curiously, many prominent Sephardic recording artists did not record Hebrew or Ladino repertory. Most notable by her absence was Rosa Eskenazi, (27) but Abraham Caracach Effendi, Misirli Udi Avram (a.k.a. Samli Avram Effendi), Pepron Hanim and Bey Neuman, among others, did not record Sephardic songs either.
In 1957 Professor Curt Sachs famously defined Jewish music as music "by Jews, for Jews, as Jews." (28) Sephardic 78 r.p.m. recordings were surely "by Sephardim, for Sephardim, as Sephardim."
By Sephardim: Nearly all the vocalists were Sephardim, and I believe that non-Jewish vocalists were at least conversant with Judeo-Spanish.
For Sephardim: These recordings were bought overwhelmingly by Sephardim. (11) The repertoire exemplifies the then-current interests of the community, enriched by performers who actively converted folk and popular songs of their host countries into Judeo-Spanish.
As Sephardim: The songs were typically learned orally from other Sephardim (or from recordings that circulated narrowly in the community) and delivered in keeping with the performance practices of urban Ottoman music of the time.
Of course, this definition was completely swept away in the second half of the 20th century. Sephardic communities that might have nurtured traditional artists were ravaged by World War II and subsequent dislocation and assimilation. Meanwhile, the folk music revival, the early music movement's "discovery" of Sephardic music and the world music boom all led to tremendous changes in repertoire, performance and commercial practices.