Haim Effendi
Discography
| | | |
| --- | --- | --- |
| Artist | Title | Label / Number |
| Haim Effendi | Anenu elohe avraham | |
| Haim Effendi | Ánjel de la ermozura | |
| Haim Effendi | Anoten techoua | |
| Haim Effendi | Aparessé a la ventana | |
| Haim Effendi | Arvoles joran por louvja | |
| Haim Effendi | Arvoles yoran por luvia | |
| Haim Effendi | Arvoles yoran pour louvia | |
| Haim Effendi | Árvolez de almendra | |
| Haim Effendi | As apes | |
| Haim Effendi | Avino malken | |
| Haim Effendi | Avlo con coradje | |
| Haim Effendi | Avlo con coradje | |
| Haim Effendi | Avlo con coragio | |
| Haim Effendi | Avre los ogios | |
| Haim Effendi | Avre tou puerta | |
| Haim Effendi | Avre tu puerta | |
| Haim Effendi | Barona vo azerte | |
| Haim Effendi | Barona vo azerte | |
| Haim Effendi | Bechouv Adonaď | |
| Haim Effendi | Bien orosos los mansevos | |
| Haim Effendi | Boulissa boulissa | |
| Haim Effendi | Carcelaro ipiadoso | |
| Haim Effendi | Carselero i piadoso | |
| Haim Effendi | Chofet Kol Aaresse | |
| Haim Effendi | Chomer Israel | |
| Haim Effendi | Como la rosa en la guerta | |
| Haim Effendi | Contar kero mis amoresse | |
| Haim Effendi | Dame la mano palambo | |
| Haim Effendi | Dame la mano palomba | |
| Haim Effendi | Dame la Mano Palomba | |
| Haim Effendi | De enfrente la vide venir | |
| Haim Effendi | Dourme Dourme | |
| Haim Effendi | Dourme dourme ermosa Donzeiia | |
| Haim Effendi | Dourme dourme ermoza donzela | |
| Haim Effendi | El dantista moderno (diálogo kómiko) | |
| Haim Effendi | El ke toka la kitara | |
| Haim Effendi | El Meleh | |
| Haim Effendi | El Nora Alďla | |
| Haim Effendi | El Rei ke mountcho | |
| Haim Effendi | Eloay al tedineni | |
| Haim Effendi | Estrea soz del Cielo-Espagnol | |
| Haim Effendi | Et Chare Rasson | |
| Haim Effendi | Et charé rasson | |
| Haim Effendi | Etcharé Razon | |
| Haim Effendi | Eth Charé Razon | |
| Haim Effendi | Grande desplazer tengo | |
| Haim Effendi | Hajom arad olam | |
| Haim Effendi | Houriet Espagnol | |
| Haim Effendi | Im afes | |
| Haim Effendi | Imaphes Espagnole | |
| Haim Effendi | Indome para Marsiglia | |
| Haim Effendi | Indome para Marsiglia | |
| Haim Effendi | Indome por mares altes | |
| Haim Effendi | Israel Avadeha | |
| Haim Effendi | Israel Avadeho | |
| Haim Effendi | Jamse Le Ameha | |
| Haim Effendi | Kadisch | |
| Haim Effendi | Kal nidré | |
| Haim Effendi | Kamti | |
| Haim Effendi | Kantica del Parido | |
| Haim Effendi | Kantika de la Palestina | |
| Haim Effendi | Kantika Sionista Dos Mille Anios | |
| Haim Effendi | Kantikal del Novio | |
| Haim Effendi | Karnisería modelo (diálogo kómiko) | |
| Haim Effendi | Karselero ai piadoso | |
| Haim Effendi | Katarina en la ventana | |
| Haim Effendi | Ke Ofissio tenesch | |
| Haim Effendi | Ken me dyo una ramika | |
| Haim Effendi | Ken sekasa kon amor | |
| Haim Effendi | Keter yitenou | |
| Haim Effendi | Kidousche | |
| Haim Effendi | Kol Hod Baleva | |
| Haim Effendi | Komo el pášaro | |
| Haim Effendi | La Espartission | |
| Haim Effendi | La Espartission | |
| Haim Effendi | La Espartission | |
| Haim Effendi | La hagada | |
| Haim Effendi | La mintira de la mwerte | |
| Haim Effendi | La palomba | |
| Haim Effendi | La palomba/Cuando salí de la Habana | |
| Haim Effendi | La palomba-Espagnol | |
| Haim Effendi | La reina estava lavrando | |
| Haim Effendi | La Reina stava lavrando | |
| Haim Effendi | La reyna estava lavrando | |
| Haim Effendi | La Rosa enfloresse | |
| Haim Effendi | La Rosa enfloresse | |
| Haim Effendi | La soledad de la notschada | |
| Haim Effendi | Leha Eli | |
| Haim Effendi | Leka dodi | |
| Haim Effendi | Los amigos me dan speranza | |
| Haim Effendi | Magnana magnana | |
| Haim Effendi | Majana Majana | |
| Haim Effendi | Maldichta esse la mi vida | |
| Haim Effendi | Marche Sioniste | |
| Haim Effendi | Marche Sioniste Kol Hod Baleva | |
| Haim Effendi | Maz ariva i maz ariva | |
| Haim Effendi | Mihtam le David | |
| Haim Effendi | Mira kwesta palomiya | |
| Haim Effendi | Mizmor ledavid | |
| Haim Effendi | Montagnas ize polvo | |
| Haim Effendi | Muero io de amor | |
| Haim Effendi | Muero lio di amor | |
| Haim Effendi | Nichemat Kol Hay | |
| Haim Effendi | Notsche Buoina | |
| Haim Effendi | O ke grasyozo Dio | |
| Haim Effendi | Odeka ki anitani | |
| Haim Effendi | Oudou | |
| Haim Effendi | Palestina kwanto soz dezventurada | |
| Haim Effendi | Palestina tyera santa | |
| Haim Effendi | Paseando una manyana | |
| Haim Effendi | Pizmon Chavti Badonaď | |
| Haim Effendi | Pizmon Emet El Shmekha | |
| Haim Effendi | Pizmon rahoum ad mataď | |
| Haim Effendi | Pizmon Ya El Habib | |
| Haim Effendi | Rahum vehanun | |
| Haim Effendi | Raou Banim | |
| Haim Effendi | Rinya konyugal (diálogo kómiko) | |
| Haim Effendi | Romance Espagnole, Majana | |
| Haim Effendi | Šir haširim | |
| Haim Effendi | Tarantaz nwevas | |
| Haim Effendi | Tehilot lael | |
| Haim Effendi | Teromam badrama | |
| Haim Effendi | Todo bueno tengo | |
| Haim Effendi | Todo bueno tengo | |
| Haim Effendi | Todo Buoina tengo | |
| Haim Effendi | Tonkinoise Espagnol | |
| Haim Effendi | Tu soz ermoza donzea | |
| Haim Effendi | Tu soz una estrea biva | |
| Haim Effendi | Ve akoanim | |
| Haim Effendi | Veavraham siv | |
| Haim Effendi | Vejemou kol | |
| Haim Effendi | Venturoso mansevo | |
| Haim Effendi | Venturoso mansevo | |
| Haim Effendi | Venturozo Mansevo | |
| Haim Effendi | Vezouhri | |
| Haim Effendi | Ya Chema Evyoneho | |
| Haim Effendi | Ya son kaze sez anyos | |
| Haim Effendi | Yachen Al Teradam | |
| Haim Effendi | Yagan i melizinan | |
| Haim Effendi | Yessav a El | |
| Haim Effendi | Yo me asento en mi ventana | |
| Haim Effendi | Zochrenou lechaim | |
| Haim Effendi/Albert Beressi? | Avlar jo vos kero | |
| Haim Effendi/Albert Beressi? | Avlar jo vos kero | |
Biography
In spite of his preeminence as a singer and musician during his lifetime, we have very few details about the life of Haim Effendi. Haim Behar Menahem, Haim Effendi was born in Edirne (formerly Adrianople in Western Thrace, today Turkey) in 1853. Owing to his birthplace he was also known as Edirneli Haim Effendi and owing to the family's profession as Haim Yapağı, or "Haim the wool man or Wool Merchant." He spent most of his life Edirne but also toured extensively. From 1925 to 1936 he lived in Alexandria, Egypt. He passed away in Cairo in 1937.
According to the Greek researcher Aristomenis Kalyviotis, Haim Effendi recorded Turkish repertory for Odeon in 1906-1907, and probably even earlier (1905), in Constantinople. His first Sephardic recordings came in 1907-1908. He doubtless made the acquaintance of the Blumenthal brothers, Julius and Hermann, who served as local agents for Odeon. When they founded the Ottoman Empire's first indigenous recording label, he recorded both Turkish and Sephardi repertory for them, from ca. 1911 to ca. 1926. His recorded output for Orfeon soon eclipsed his early Odeon work. Altogether, he recorded more songs than any other Sephardic recording artist.
Photos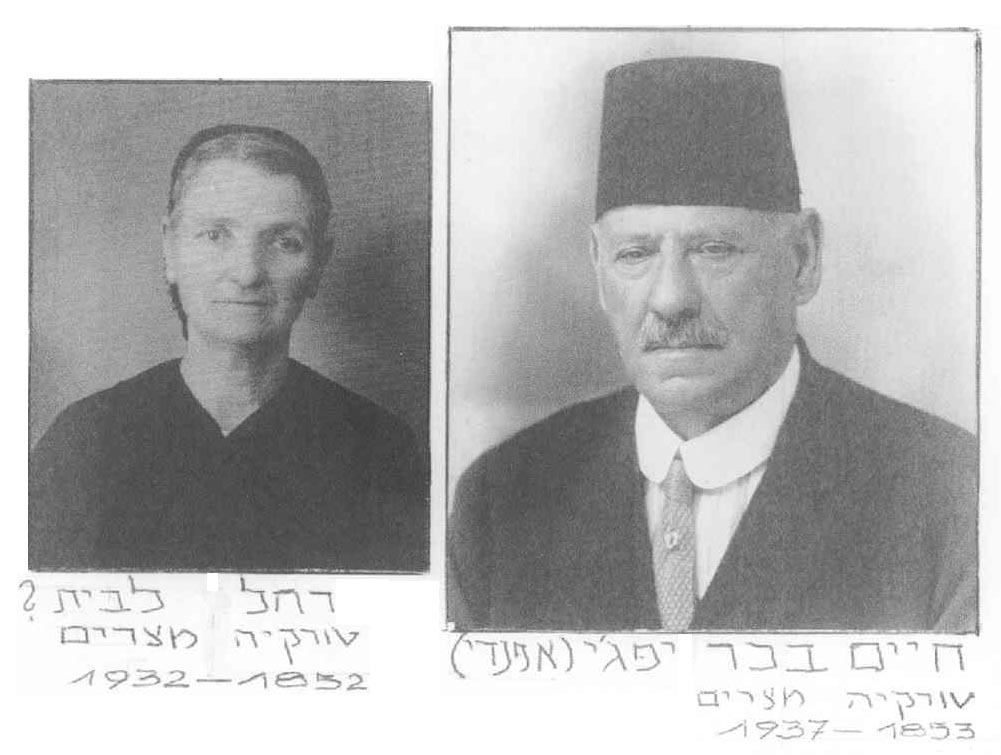 Source: Ido Abravaya.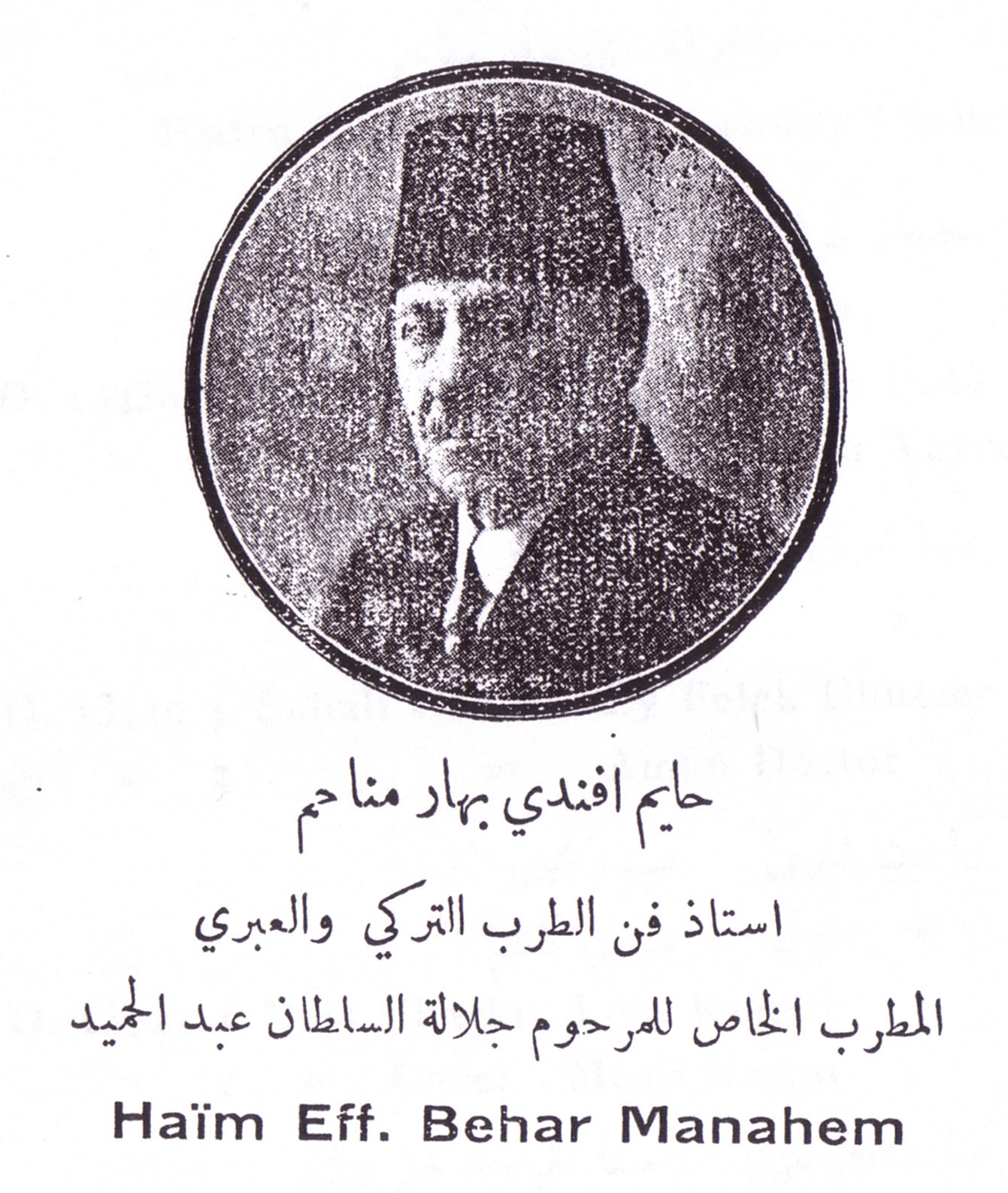 Source: Columbia (Turkey) Catalog, 1928, Egypt & Sudan, from Hugo Strötbaum.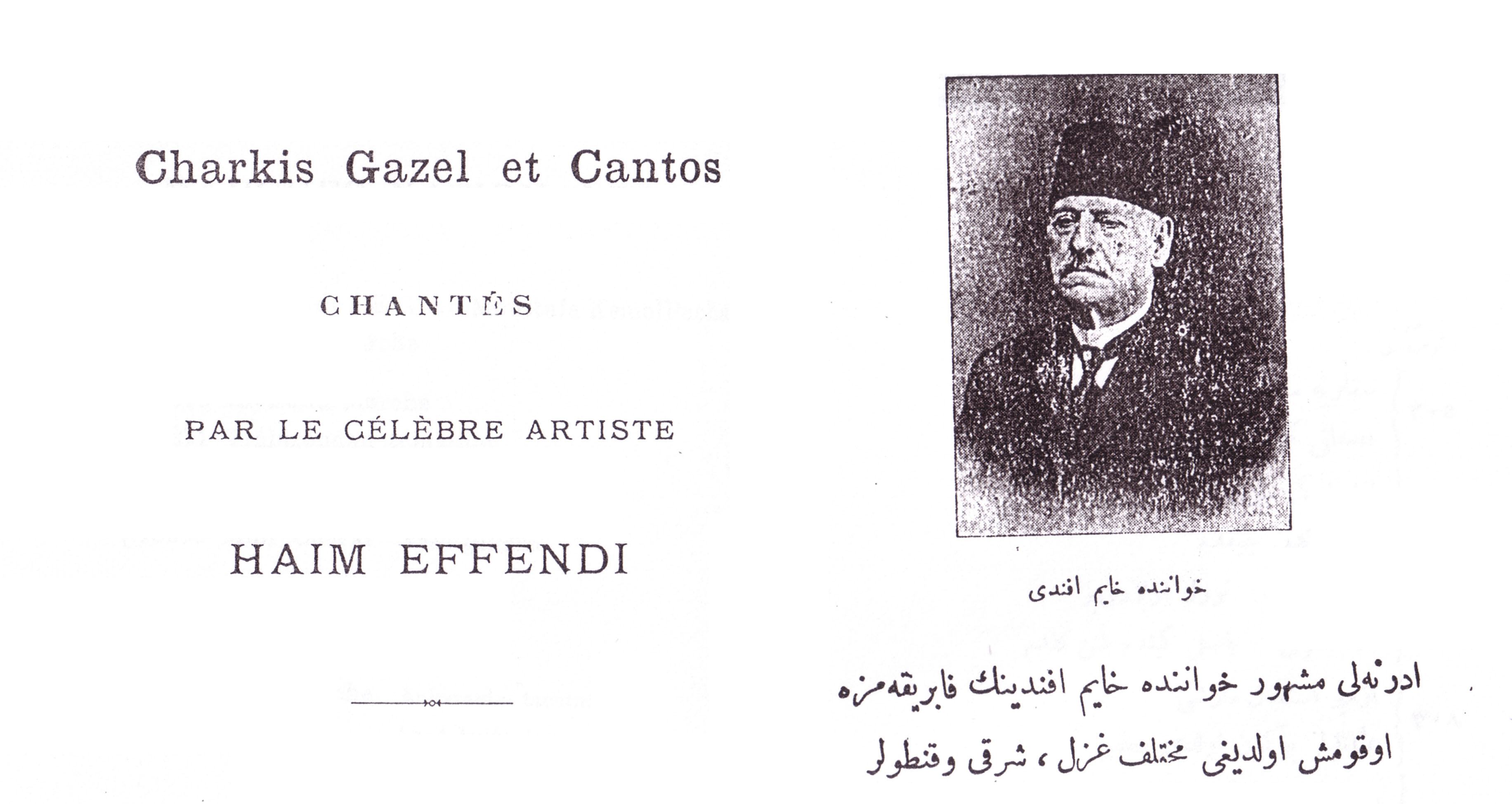 Source: Catalogue Général No 1 de Disques Double Face Orfeon, undated.
Haim Effendi Re-Release
The Jewish Music Research Centre and its AMTI label have released An Early 20th-Century Sephardi Troubadour: The Historical Recordings of Haim Effendi of Turkey. This monumental 4-CD re-release with 59 songs chronicles the liturgical and secular output of this extremely influential Sephardic 78-rpm recording artist. See more here.